The Only Toe Joint Replacement Implant with a Successful 70+ year Clinical History for the Treatment of Big Toe Arthritis.
The BioPro Hemi Toe Implant is a joint resurfacing implant designed to maintain motion and provide pain relief for patients suffering from big toe arthritis. The implant has been successfully used for over 70 years with an average +95% success rate supported by published clinical studies worldwide.1-12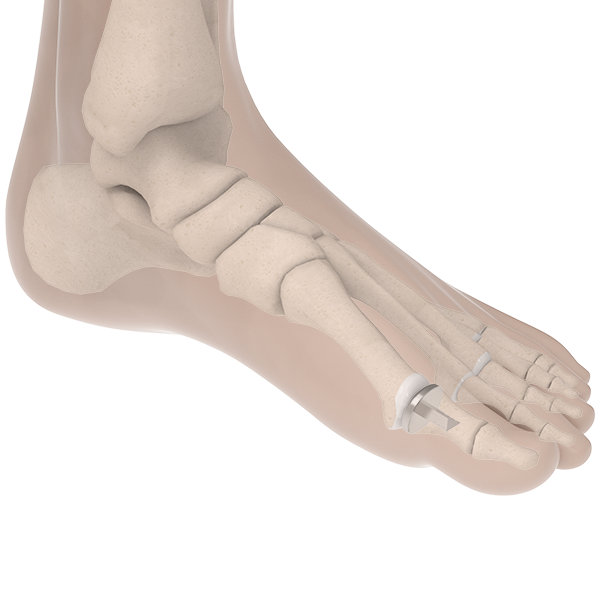 Understanding Hallux Rigidus
Osteoarthritis of the big toe is one of the most common conditions of the foot and ankle. The big toe, referred to as the first metatarsophalangeal or MTP joint, is made of two bones, a phalanx and metatarsal.
The big toe joint plays an important role in walking as it bends with every step you take. When suffering from osteoarthritis, the MTP joint becomes stiff and painful, which may change the way you walk and activities you can perform. The medical term to describe this loss of motion is Hallux Rigidus. It is a degenerative disease that can affect people of all ages but most common in people over the age of 50.
In a normal joint, the bone surfaces are covered in cartilage, a tough protective cushion that allows the joint to move easily.  Overtime, due to wear-and-tear, trauma or joint mechanics, cartilage begins to wear down, causing the bone surfaces to rub together. As a result of the cartilage damage, the joint space narrows and osteophytes or bony outgrowths begin to form. In the early stages of the disease, the cartilage damage and osteophyte formation typically occur on the top of the metatarsal head, therefore causing pain while walking or pulling the toe back. As the disease progresses, the more cartilage damage occurs, spreading throughout the joint and eventually resulting in complete overgrowth, and a stiff joint.
The symptoms of hallux rigidus include:
Joint tenderness
Swelling and inflammation around the joint
Difficulty wearing shoes due to bone spur development (overgrowths)
Dull pain in other areas of the body (hip, knee, lower back) due to changes in the way you walk
When diagnosing hallux rigidus your surgeon will look for reduced range of motion, especially while pulling the toe up (dorsiflexion) and try to feel for any osteophyte formation. X-rays are the most common method to determine the severity of the disease and determine which treatment options may be best for you.
Before considering surgery there are always non-operative treatments such as:
Shoe modifications
Orthotics
Cast immobilization with a reduction in activity
Anti-inflammatory drugs
Physical therapy
Local injections
Ultimately, surgical treatment is based on a variety of factors including age, stage of arthritis, and activity levels. Depending on a surgeon's experience and training, they also may have a preferred surgical procedure that they specialize in.  When compared directly to fusion, BioPro patients displayed higher satisfaction rates, lower pain scores, and quicker return to work and leisure activities.1
Resurfaces one side of the joint with a smooth metal implant
Allows immediate weight-bearing after surgery†
Maintains motion in the big toe
Allows for a variety of footwear choices, such as heels
Allows quick return to work and activities1
Can easily be revised 12-13
Provides predictable pain relief 1-12
Removes all cartilage and fuses the bones together with plates or screws
Non-weight bearing after surgery
Eliminates motion in the big toe
Footwear restrictions
Immobilization of 6-8 weeks
Limited revision options
Provides predictable pain relief
Additional Procedures
Cheilectomy
A cheilectomy involves remodeling of the metatarsal head to remove painful bone spurs and is often used in mild cases. While the procedure can improve the toe's range of motion, the damaged articular cartilage surfaces will still rub against each other and may still be painful. This procedure is often only a temporary solution as it doesn't stop the progression of arthritis. If a Cheilectomy has been performed in the past, a BioPro Hemi may still be used to resurface the proximal phalanx.
Osteotomy
An osteotomy involves removing a piece of bone from either the metatarsal or proximal phalanx to allow for joint decompression and realignment. This may be performed in conjunction with an implant or stand-alone procedure. Just like a Cheilecomty, if one of the arthritic cartilage surfaces is not replaced with an implant, the procedure won't stop the progression of arthritis.
Learn what treatments may be right for you.
Find a Surgeon
Fill out the contact form or call us at 810-982-7777 to see if there is an experienced surgeon in your area.
Consult with your surgeon
Discuss all your possible treatment options and expectations after surgery.
Undergoing joint replacement
Joint replacement surgery with the BioPro First MPJ Hemi is an outpatient procedure. You should be in and out in one day and on the road to recovery.
Recovery
Below is the typical timeline for patients after undergoing a hemiarthroplasty with the BioPro Hemi. Each patient's recovery may be different. Please discuss your protocol with your surgeon prior to surgery.
Immediate weight-bearing
Walk the day of surgery in a post-op shoe
2-4 Weeks
Transition to comfortable shoes
6-8 Weeks
Resume normal activities and sports
Philip P.
A retired Marine from Kentucky shares his journey with a foot condition and his remarkable recovery after undergoing surgery in 2012. Despite the pain, Philip remained active and participated in various strenuous activities like marathons and hikes. He highly recommends the BioPro Hemi Toe implant, as it has allowed him to continue his active lifestyle for many years without any issues.
Kathy W.
"I have had the Biopro implant in both toes. I could not wear a pair of shoes without pain in the toe area with bone on bone. I did not want to get a fusion, so opted for the implant. I did my left foot first followed by my right foot, three months later. Wore a boot for six weeks after surgery. I am pain-free with much mobility in my big toes. I also had surgery for hammer toes, as well. I am a substitute teacher and on my feet quite a bit. I can wear shoes without pain – even high heels. I would recommend this implant over a fusion due to the quick recovery. With a fusion, I was told I would be in a cast for two weeks and then a boot and scooter for six weeks. I would highly recommend Dr. Melnick. He is a wonderful surgeon with a great bedside manner."
The BioPro Hemi Is recommended for patients over the age of 50 suffering from hallux rigidus/limitus who wish to maintain motion in their big toe. BioPro cautions use if suffering from other conditions including hallux valgus and sesamoid arthritis.
Beekhuizen SR, Voskuijl T, Onstenk R. Long-Term Results of Hemiarthroplasty Compared With Arthrodesis for Osteoarthritis of the First Metatarsophalangeal Joint. J Foot Ankle Surg. 2018 May-Jun;57(3):445-450. doi: 10.1053/j.jfas.2017.10.013. Epub 2018 Feb 1. PMID: 29366661. (View Study)
Karin H. Simons, MD, Pieter van der Woude, MD, Frank W.M. Faber, MD, PhD , Paulien M. van Kampen, PhD , Bregje J.W. Thomassen, PhD. Short-Term Clinical Outcome of Hemiarthroplasty Versus Arthrodesis for End-Stage Hallux Rigidus. The Journal of Foot & Ankle Surgery xxx (2015) 1–4 (View Study)
Giza E, Sullivan MR. First Metatarsophalangeal Hemiarthroplasty for Grade III and IV Hallux Rigidus Techniques in Foot and Ankle Surgery 4(1):10-17,2005
 Clement, N. D., MacDonald, D., Dall, G. F., Ahmed, I., Duckworth, A. D., Shalaby, H. S., & McKinley, J. (2016). Metallic hemiarthroplasty for the treatment of end-stage hallux rigidus. Bone Joint J, 98-B(7), 945-951. (View study)
Taranow, DO. et al. Contemporary Approaches to Stage II and III Hallux Rigidus: The Role of Metallic Hemiarthroplasty of the Proximal Phalanx. Foot and Ankle Clinics , Volume 10 , Issue 4 , 713 – 728
Roukis TS, Townley, MD. BIOPRO resurfacing endoprosthesis versus periarticular osteotomy for hallux rigidus: short-term follow-up and analysis. Journal of Foot & Ankle Surgery 2003;42(6):350-8
Juan C. Goez, DPM, Charles O. Townley MD, Warren Taranow, DO. An Update on the Metallic Hemiarthroplasty Resurfacing Prosthesis for the Hallux. Presented at the 56th Annual Meeting and Scientific Seminar of the American College of Foot and Ankle Surgeons. Orlando FL February 1998
Charles G. Kissel, DPM, FACFAS, Zeeshan S. Husain, DPM AACFAS, Paul H. Wooley, PhD, Michael Kruger, MS, Mark A. Schumaker, DPM, Michael Sullivan, DPM, and Todd Snoeyink, DPM. A Prospective Investigation of the Biopro® Hemi-Arthroplasty for the First Metatarsophalangeal Joint. The Journal of Foot & Ankle Surgery 47(6):505–509, 2008
Taranow, DO , Townley, MD. Metallic proximal phalangeal hemiarthroplasty for hallux rigidus. Operative Techniques in Orthopaedics 1999;9(1):33
Townley, MD, Taranow, DO. A metallic hemiarthroplasty resurfacing prosthesis for the hallux metatarsophalangeal joint. Foot & Ankle International 1994;15(11):575-80 (View Study)
Christine C. Salonga, DPM, David C. Novicki, DPM, FACFAS , Martin M. Pressman, DPM, FACFAS , D. Scot Malay, DPM, MSCE, FACFAS. A Retrospective Cohort Study of the BioPro Hemiarthroplasty Prosthesis. The Journal of Foot & Ankle Surgery 49 (2010) 331–339 9 (View Study)
 Giza, E., Sullivan, M., Ocel, D., Lundeen, G., Mitchell, M., & Frizzell, L. (2010). First metatarsophalangeal hemiarthroplasty for hallux rigidus. International Orthopaedics, 34(8), 1193–1198. https://doi.org/10.1007/s00264-010-1012-x 13. Garras, D. N., Durinka, J. B., Bercik, M., Miller, A. G., & Raikin, S. M. (2013). Conversion Arthrodesis for Failed First Metatarsophalangeal Joint Hemiarthroplasty. Foot & Ankle International, 34(9), 1227–1232. (View Study)
Jacob HA. Forces acting in the forefoot during normal gait–an estimate. Clin Biomech (Bristol, Avon). 2001 Nov;16(9):783-92. doi: 10.1016/s0268-0033(01)00070-5. PMID: 11714556.
Garras, D. N., Durinka, J. B., Bercik, M., Miller, A. G., & Raikin, S. M. (2013). Conversion Arthrodesis for Failed First Metatarsophalangeal Joint Hemiarthroplasty. Foot & Ankle International, 34(9), 1227–1232.
Gheorghiu D, Coles C, Ballester J. Hemiarthroplasty for Hallux Rigidus: Mid-Term Results. J Foot Ankle Surg. 2015 Jul-Aug;54(4):591-3. doi: 10.1053/j.jfas.2014.11.001. Epub 2015 Mar 4. PMID: 25746772.
Adair CR, Zide JR, Royer CT, Reddy V, Brodsky JW. Short Term Radiographic Analysis of the Cartiva Implant for Hallux Rigidus. Foot & Ankle Orthopaedics. October 2019. doi:10.1177/2473011419S00086